I posted a poll to the right under my picture. You guys can vote on what recipe I should try!

I know I've already posted twice today but I've got a really good recipe for you guys, even you non-allergy folk. It's some pancakes!

I got this awesome recipe from The Everything Food Allergy Cookbook by Linda Larsen. This is a really good book if you have a lot of food allergies. She labels each recipe with images showing what allergens aren't present. There's some pretty good recipes in it too.
Blueberry Pancakes:
Dairy, egg, wheat, fish, and nut free. Can be made soy free.
Makes 12 pancakes or more smaller ones (which I like to do).
Ingredients
1 1/4 cups superfine rice flour (I used all purpose instead of these flours)

1/3 cup potato-starch flour

3 tablespoons tapioca flour

1 teaspoon gluten-free baking powder

1 teaspoon baking soda

1/4 teaspoon salt

1/2 teaspoon cinnamon

1/3 cup sugar

1/4 cup applesauce

2 tablespoons vegetable oil (Soy free: use canola oil)

1 1/4 cups soy milk (Soy free: rice, almond, or coconut milk)

1/4 cup orange juice

1 1/2 cups blueberries (optional)
Directions
Place flours, baking powder, baking soda, salt, and cinnamon in a sieve. Sieve into a large bowl; stir in sugar. (AP flour can be used)

In a small bowl, combine applesauce, oil, milk, and OJ and mix well. Add dry ingredients all at once. Mix just until combined (there will still be some lumps). Gently stir in blueberries if desired. Let batter stand for 10 minutes.

Heat nonstick skillet over medium heat. Pour batter onto skillet in ¼ cups amounts. Cook until edges appear dry and bubbles form and just start to break on the surface. Gently turn pancakes and cook on the second side until done.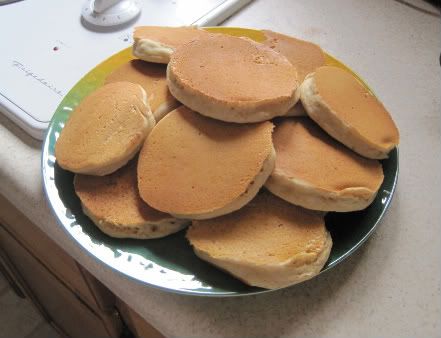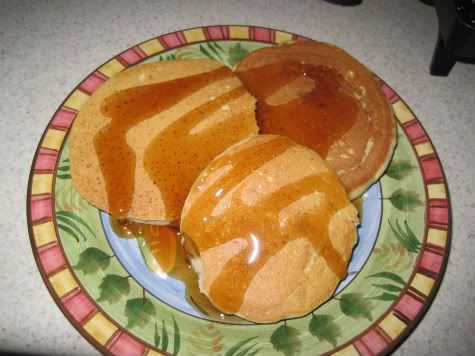 What I used: Great Value (Walmart) bleached enriched all purpose flour, Great Value baking powder, Arm & Hammer baking soda, Great Value salt, McCormick's ground cinnamon, Great Value sugar, Great Value cinnamon applesauce, Kroger pure vegetable oil, 365 (Whole Foods) vanilla almond milk, Simple Orange orange juice, a touch of Kroger vanilla
What I think: These pancakes were amazing. Mine weren't gluten free, however, so I'm not sure how the other flours taste. I am planning on trying them soon and I can give you guys an update on them. These pancakes were very flavorful and sweet. My roomate, her boyfriend, and my boyfriend all tried them and they loved them. I personally think they taste better than normal pancakes. I decided to not add blueberries because I'm not a big fan of them.