Hello again! I want to thank everyone for the support. This blog has been more popular than I ever thought it would be. So thanks everyone!

You have six more days to vote for which recipe you want. Look to the right under my picture and vote!

I just posted a big page on what to watch out for and labels. It's so long it takes up a whole page, so you might have to hit "older posts" at the bottom.

I'm also posting today to share another recipe! This recipe is from The Everything Food Allergy Cookbook by Linda Larsen, the cookbook I previously posted a pancake recipe from. If you know me, you know how much of a sucker I am for soup. You also know how much I love potatoes, which is why I included them in this soup. I've made this recipe many times, tweaking it as I go, sometimes producing waaaay too much rice. So make sure you measure! This recipe is great for winter too.

Lemon Chicken Rice Soup: Dairy, egg, soy, wheat, fish, and nut free.

Ingredients

2 tablespoons olive oil

1 chopped onion (I never use a full onion)

2 cloves minced garlic (I use powder)

1/2 teaspoon salt (I adjust salt and pepper in the end, usually adding more)

1/8 teaspoon pepper

1/2 cup long grain rice (don't go over!)

1 teaspoon dried thyme leaves (I've never used these)

4 cups chicken stock

1/2 teaspoon grated lemon zest

1 lb. boneless, skinless, chicken breasts, cubed (I never use a full pound)

2 cups frozen baby peas (I don't use peas because I'm allergic, instead I use potatoes)

2 tablespoons lemon juice (Just like salt and pepper, I usually add more in the end)
Directions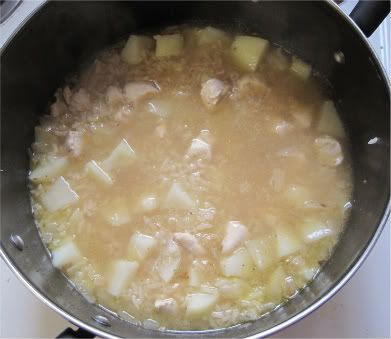 1.
In a large saucepan, heat olive oil over medium heat. Add onion and garlic. Cook and stir until crisp-tender, about 5 minutes. Sprinkle with salt and pepper. Add rice and thyme; cook and stir 3 minutes longer.
2.
Add stock and zest. Bring to a simmer. Cover and simmer 10 minutes, then add chicken. Simmer 10-12 minutes longer, until chicken is cooked.
3.
Add peas or potatoes (I usually boil these in water separately before adding) if desired. Add lemon juice. Heat through until soup is hot, but do not simmer.
What I used: 365 (Whole Foods) extra virgin olive oil, half a white onion, a few pinches of McCormick's garlic powder, Great Value (Walmart) salt and pepper, 365 long grain white rice, 2 containers of Swanson's chicken stock (I've tried a few but this is one of my favorites), 1/4-1/2 a package of Tyson's chicken breast tenderloins (I like these because they are thinner and allow for smaller cubes of chicken), a few squirts of lemon juice (ReaLemon I believe), and 2 - 3 potatoes
What I think: As I mentioned before, I love this soup. I've made it at least five times. Sometimes it's really flavorful, sometimes not so much. You have to adjust the salt, pepper, and lemon juice for your taste. You can also add other veggies or substitute others. I'm not a big fan of vegetables except
potatoes so I only add a few. I like the recipe because it allows room for adjustment.
Enjoy!
-Michelle